Dear Readers,

Well the countdown is on! On April 5, HAUNTING DESIRE will be at book stores and available online everywhere! I am so excited for this third book in the series to come out. The first review is in and the buzz is good! RT Book Reviews says: "The third installment in Quinn's Haunting series begins with exciting action, and maintains the thrills through the entire book. Tiarnan, a warrior of the past, will melt your heart."

Need to catch up on the Mists of Ireland series? Watch the trailers.

My goal for this year is to meet as many readers as I can. You'll find me out and about, beginning in March when I'll be at the Tucson Festival of Books where I'll be speaking and signing books. Mysterious Galaxy, a fabulous book store and one of the many vendors at the festival, will be selling HAUNTING DESIRE three weeks before its release date! You heard that right! Only at the Mysterious Galaxy vendor tent at the Tucson Festival, you will be able to buy Haunting Desire before it's officially released!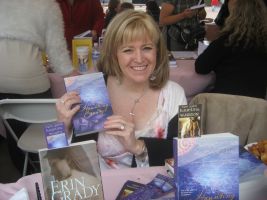 Here's where you'll find me. Stop by and say hi!

March 12 - 13, 2011, Tucson Festival of Books (Speaking & Signing Books)

* Saturday, March 12, 2011, 1:00, Speaking & Signing, Panel: Building A World—We're Not in Kansas Anymore, (with a signing immediately afterward for 30 minutes)

* Sunday, March 13, 11am—noon, Signing at Mysterious Galaxy Exhibitor's Tent—Haunting Desire will be on sale here!

* Sunday, March 13, 1pm, Speaking & Signing, Panel: Paranormal—It's Not Just Vampires, (with a signing immediately afterward for 30 minutes)

More details: http://www.tucsonfestivalofbooks.org
April 6-10, 2011, RT Booklovers Convention, Anaheim, California
Book signing open to the public!
More details: http://www.rtbookreviews.com/convention-home

June 4, 2011—Arizona Dreaming!
First ever Arizona Reader's event. Fun, panels, dinner and authors! Spread the word. This will be a great (inexpensive) night.
More details: http://arizonadreamin.wordpress.com

June 28—July 1, 2011, RWA National Conference and Literacy Book Signing, New York City, New York
Book signing open to the public!
More details: http://www.rwanational.org/cs/literacy_autographing

August 5—August 7, 2011, RomCon 2011, Denver Colorado
Book signing open to the public!
More details: http://www.romconinc.com/index.php/convention

As always, I thank you for selecting my books to take you along to that special world only readers share. Please stop by my website to get current information on me and my books. Don't forget—every month I run a contest and there's no purchase required!

I hope 2011 is the best year ever for you and your loved ones!

Take care,

Erin Quinn
www.erinquinnbooks.com