It takes a little magic, but Kris is about to get everything he didn't know he wanted for Christmas.
Kris Kringle is just an average guy living in the tiny town of North Pole, Maine where Christmas isn't just a holiday—it's a way of life. But not for Kris. He might be named after the big guy in red, but Kris is more Scrooge than Santa. Until he wakes up from a night of partying with his friends to find himself in possession of a Santa suit, a toy bag and a puppy. Kris soon discovers that he's been relegated to Santa's naughty list and there's only one way to get his name removed....put on the suit and spread some cheer.
Lucky for Kris every cloud has a silver snowflake and his quest to get off that list lands him in the arms of the woman he's been lusting after for years.
Originally published November 2011 in eBook format.



Order Kissing Kris Kringle:

eBook - November 3, 2014
Lucky Me Publisher
ASIN: B00P84TULS BN ID: 294-0150354814












NAUGHTY ST. NICK, Secret Santa Holiday Collection Book 2, Calista Fox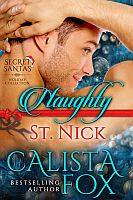 One hot sleigh mechanic + one provocative woman named Vixen = a very SEXY Christmas!
Tis the season for Christmas miracles...
Having landed himself on Santa's Naughty List, Nick Santos is given a chance at redemption. Granted, he's tasked with some daunting challenges—pimping Santa's ride and fixing the town's holiday bling in the once year-round Christmas Capital of the World, North Pole, Maine. Playing Secret Santa comes with some unexpected perks, like finally catching the eye of the woman who sparks his deepest desires, Vixen White.
Vixen has no idea what's come over Nick this holiday season, but his good deeds around town help her to remember the magic of Christmas, long forgotten. And his sexy grin and a searing, stolen kiss under mistletoe have her wishing her dream of being Naughty St. Nick's one and only will finally come true.
All she has to do…is believe.
Order Naughty St. Nick:

eBook - November 11, 2014
Lucky Me Publisher
Amazon ASIN: B00P84H45W BN ID: 2940150414532











ROMANCING RUDY RAINDEAR, Secret Santa Holiday Collection Book 3, Mary Leo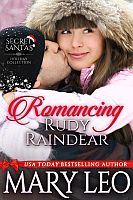 Being on Santa's Naughty List has curious consequences for Rudy Raindear, until plucky Jenny Bells helps him change his bah-humbug ways. <

Rudy Raindear thought he'd left North Pole, Main in his rear-view mirror. After several years, he's returned to convince his beloved grandfather to retire and sell his struggling bakery, Sugar Plums — the linchpin in a potentially lucrative real estate deal — great for Rudy, devastating for the town.

But all is not what it seems in this magical Christmas town, especially after Rudy lands on Santa's Naughty List. Suddenly Rudy's nose is turning red for the tiniest of white lies and the one girl he wanted to impress, Jenny Bells, is on his case for trying to close Santa's favorite bakery.

What's a guy to do?

Start baking and just maybe Rudy can save the bakery, and convince Jenny that sometimes, being a little naughty, is oh-so nice.
Order Romancing Rudy Raindear:

eBook - November 18, 2014
Lucky Me Publisher
Amazon ASIN: B00PEVY8DK>